Latest News
Brown bin collections set to end in March
---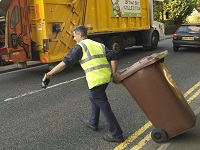 Due to changes in local government funding, St Edmundsbury Borough Council will no longer continue the current brown bin service, which will end on Saturday 2 April 2016.
The last brown bin collection will be, depending on your area, either the week starting 21 March 2016 or 28 March 2016.
If you miss your last collection day, St Edmundsbury Borough Council will not be able to return to empty your bin. You can find out your bin collection day here.
So what happens now?
As an optional replacement, St Edmundsbury Borough Council will offer all homes with the opportunity to sign up to a new garden waste collection service, starting on Monday 4 April 2016. A new garden waste only service will cost £40 a year for a bin.
This charge covers your collections between 4 April 2016 and 31 March 2017. You will not be charged if you do not want the new service.
To sign up and find out everything you need to know about the new service, click here.